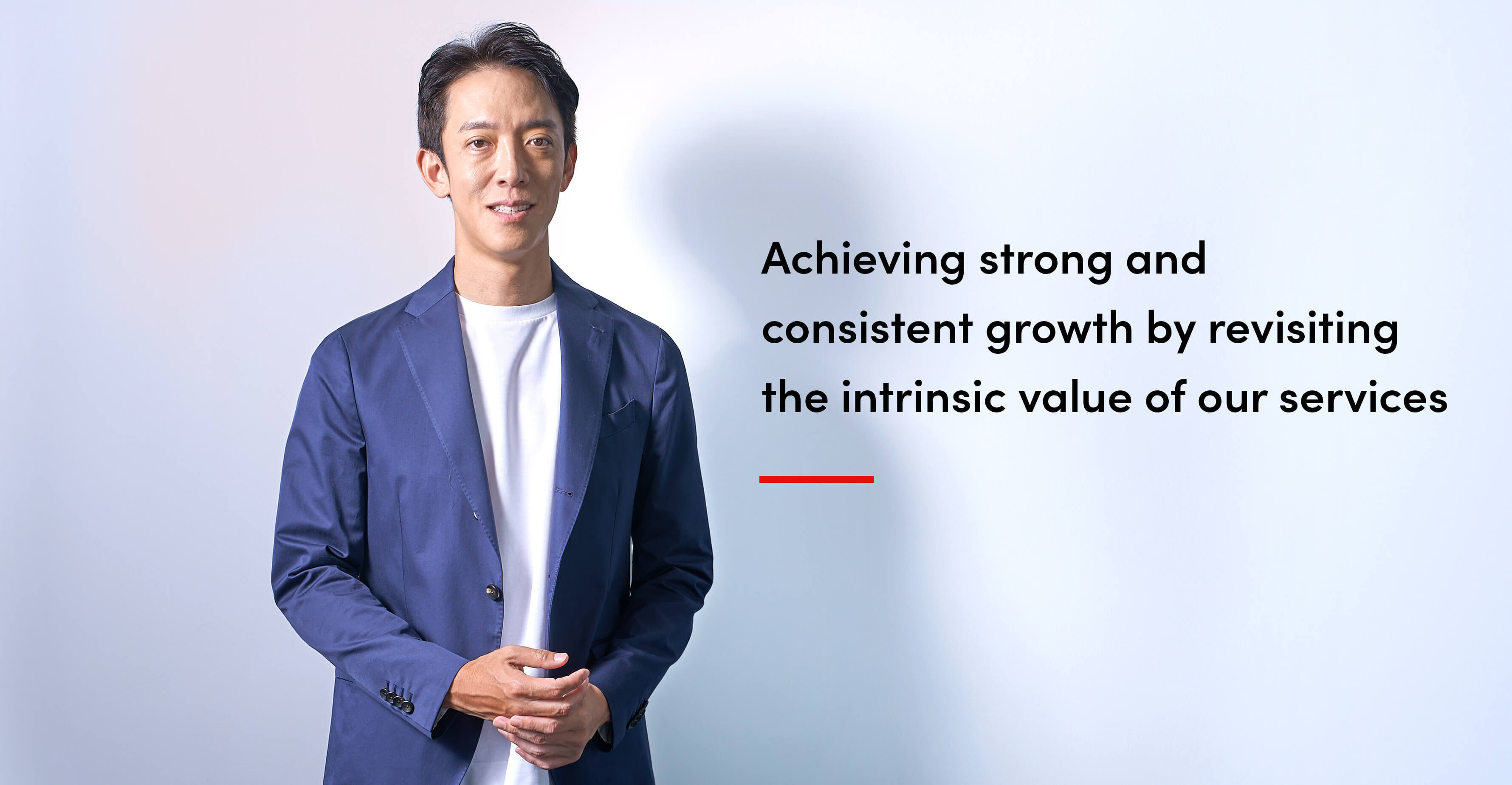 The past fiscal year has been a changeover period as the world's people have shifted from with-COVID to post-COVID. The pandemic is generally said to have generated a tailwind for digital transformation (DX). In reality, the business environment has differed greatly depending on the nature of individual services and products.
For Sansan, our group's backbone and a solution developed for business card and contact management, we came up against a headwind in which face-to-face contact dramatically declined. We therefore embarked on a large-scale product remodel that would normally have taken about 10 years, yet we completed it in just 2 years amid COVID. Also in the past fiscal year, we've continued to expand our Bill One cloud-based invoice management solution and witnessed rapid growth that exceeded our internally set goal. For accounting, in addition to Bill One's providing fundamental value in accelerating monthly closing of accounts, the recent demand for legal compliance has also spurred faster growth. Eight already has more than three million users, and the statistical data and more obtained from this app can be used within Sansan, creating value not simply as a sales driver but as a component of infrastructure. Therefore, our business strategy going forward of Eight is to focus on quickly generating revenue rather than on growing sales volume. We have also added the Contract One contract DX solution to our service lineup. We're working to establish this business and achieve a strong product/market fit.
These efforts resulted in a solid performance for the fiscal year ended May 31, 2023, with consolidated net sales up 24.9% year-on-year and adjusted operating income up 28.9% year-on-year.
We announced our consolidated sales forecast for the fiscal year ending May 31, 2024, with a 28%–32% year-on-year increase. This the first time in 4 years we've been looking at a 30% sales growth rate. As we expand our business scale, we've also incorporated a policy shift for Eight from sales growth to a focus on profit, and we've indicated we will establish a concrete structure for reigniting growth in the fiscal year ending May 31, 2024. At the same time, we recognize that this fiscal year, we'll face the question of whether this growth rate can show results beyond a single year and become a benchmark for the future.
First, we have reorganized the Sansan/Bill One business to steer the company away from the type of optimizing we were advancing during the pandemic and back to maximization in view of the current robust business growth. We're also striving to expand into new business areas, and in June 2023 we released the Bill One Business Card corporate credit card as an optional feature of Bill One. This is our first foray into the fintech domain, and we will support business growth by building an effective risk management system based on established corporate card business practices in the market.
I've always had a strong personal desire to achieve discontinuous growth, though the very efforts toward this are a series of successive steps forward. I now feel more confident than ever that we are moving in the right direction. I sense that the speed at which we're moving forward and the areas in which we're setting foot are expanding with each step.
Now we've seen the clear rewards of our efforts during the pandemic, the time is right to reignite sales growth and to enter a new stage of growth that will take us to a higher level. The favorable tailwind for DX as a whole is continuing, and in this growing market, we will constantly pursue the added value that only our group can provide. I would like to thank all our stakeholders for their continued support.
August 2023
Chika Terada
Representative Director & CEO