Sansan is a comprehensive service for sales DX (digital transformation), serving as the database to power sales.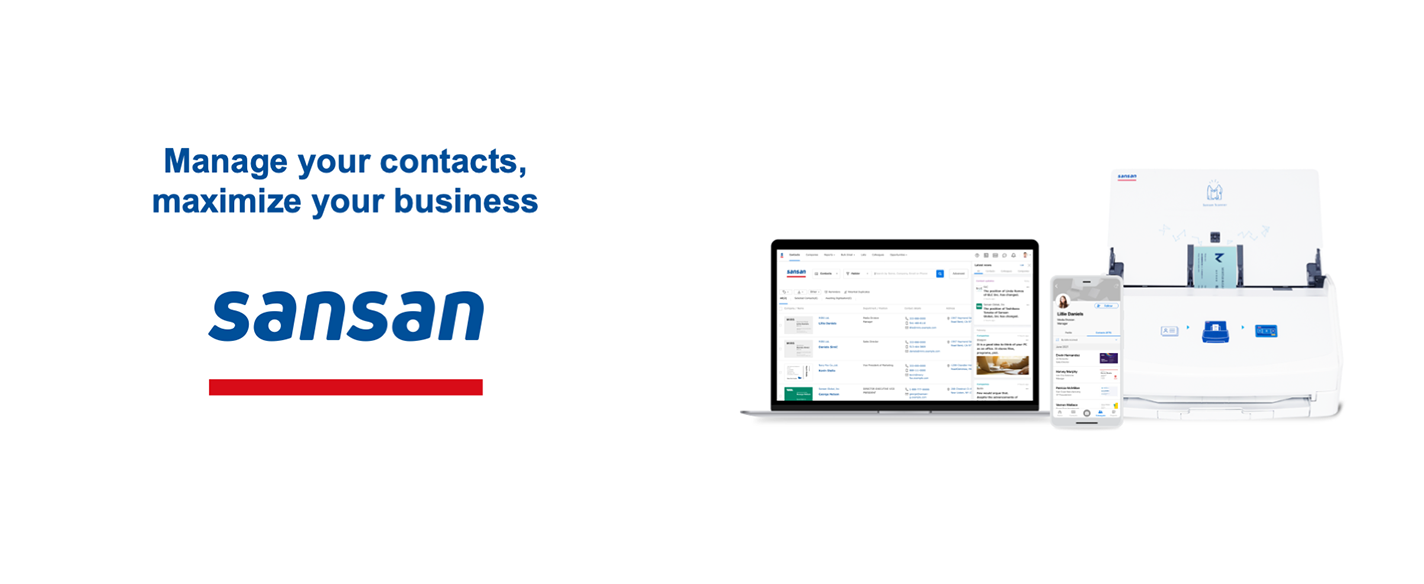 Sansan users can browse a wide range of corporate information. Sansan combines the information obtained from all contact points and corporate information, building a database unique to the user company. This strengthens organizational and individual sales abilities.
Sansan users can browse a wide range of corporate information, checking details such as industry, number of employees, net sales, and executive information. Regardless of the level of information, whether users are online or offline, contact information obtained from all contact points, such as business card and email exchanges and business meetings, can be accurately digitized, accumulated, and visualized via Sansan's AI technology and input methods.
Combining contact information with corporate information enables building of a database on Sansan that is unique to the user company. This includes information not only on companies the user has come into contact with but also this with which there has been no contact.
Also, by linking and integrating with external systems, such as CRM and marketing automation tools, Sansan expands the possibilities for utilizing data, such as using a database for marketing. Sansan also incorporates functions that keep track of corporate reorganizations and personnel changes, keeps the database up to date, and notifies users of corporate news.
Our usage plans accommodate client companies.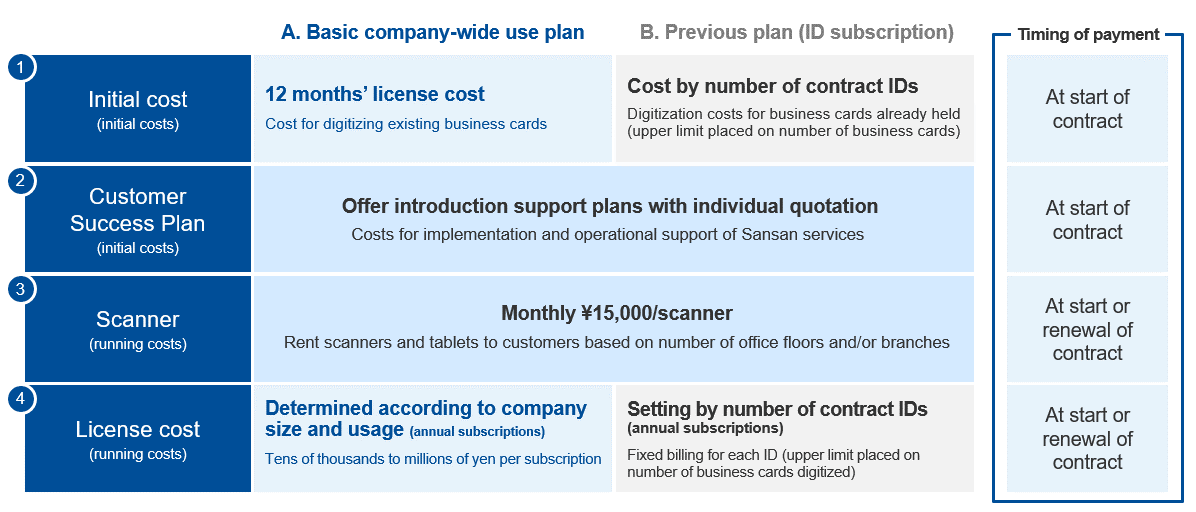 Monthly usage fees are calculated by fees, such as for scanner rental, added to a license cost, which is calculated based on factors such as the user company's size usage.
Also, at introduction of the service, additional paid services are provided for needs such as digitizing existing large volumes of paper business cards retained by the user company, and activities for supporting introduction and adoption of the system.
Bill One enables receipt, digitization, and centralization of invoices for companies.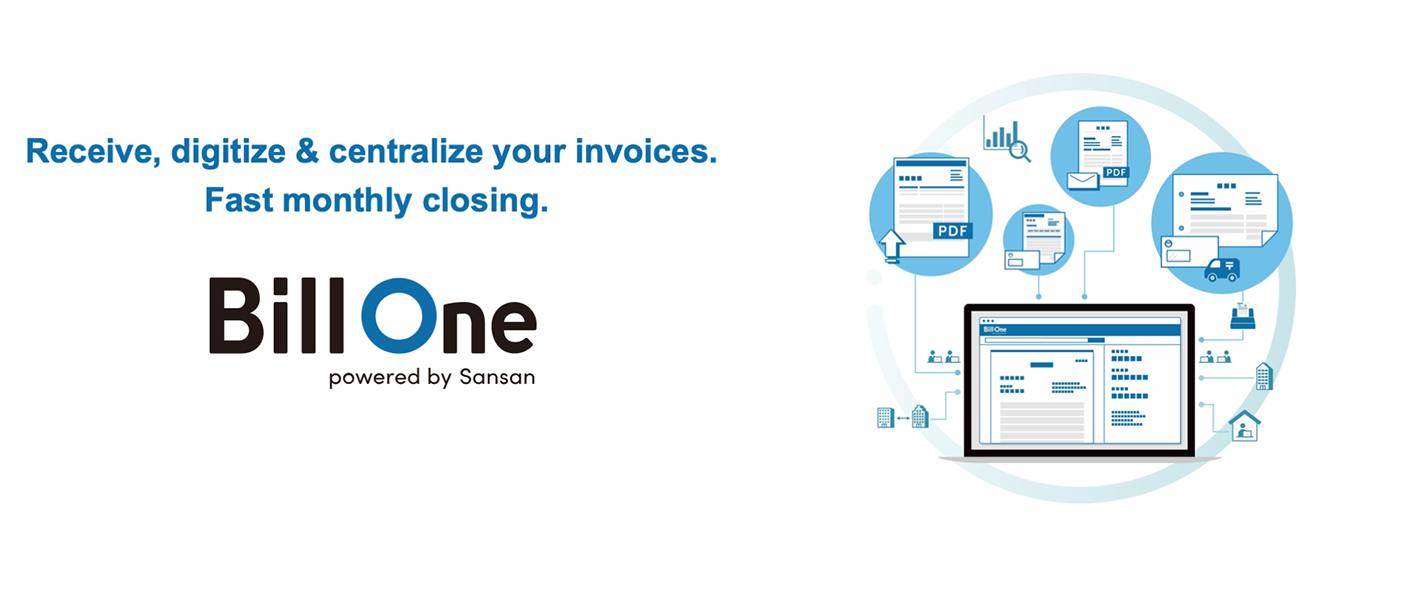 Bill One is a DX-oriented solution that helps companies work faster and more efficiently by allowing online receipt of all invoices. Invoices can be sent to multiple branches and departments in a company in both paper and PDF formats. The system boosts efficiency of invoicing work across the organization.
The Bill One scanning center receives paper invoices on behalf of the customer and quickly digitizes them at 99.9% accuracy. Bill One also digitizes PDF files and digital other invoices received by email and other means.
In addition to centralizing digitized invoices to be viewed on a cloud platform, company workflows such as invoice confirmation and approval can be completed online. This solution helps to expedite monthly accounting operations, such as closing.
With invoice information centrally managed in a highly searchable database, it also becomes easier to search for specific data. This advantage not only improves business productivity, but also enables use of data to control costs, generate sales, and maximize future profit opportunities. Additionally, the data can be used together with third-party services, such as accounting systems. In addition, we began offering an invoicing function in July 2022.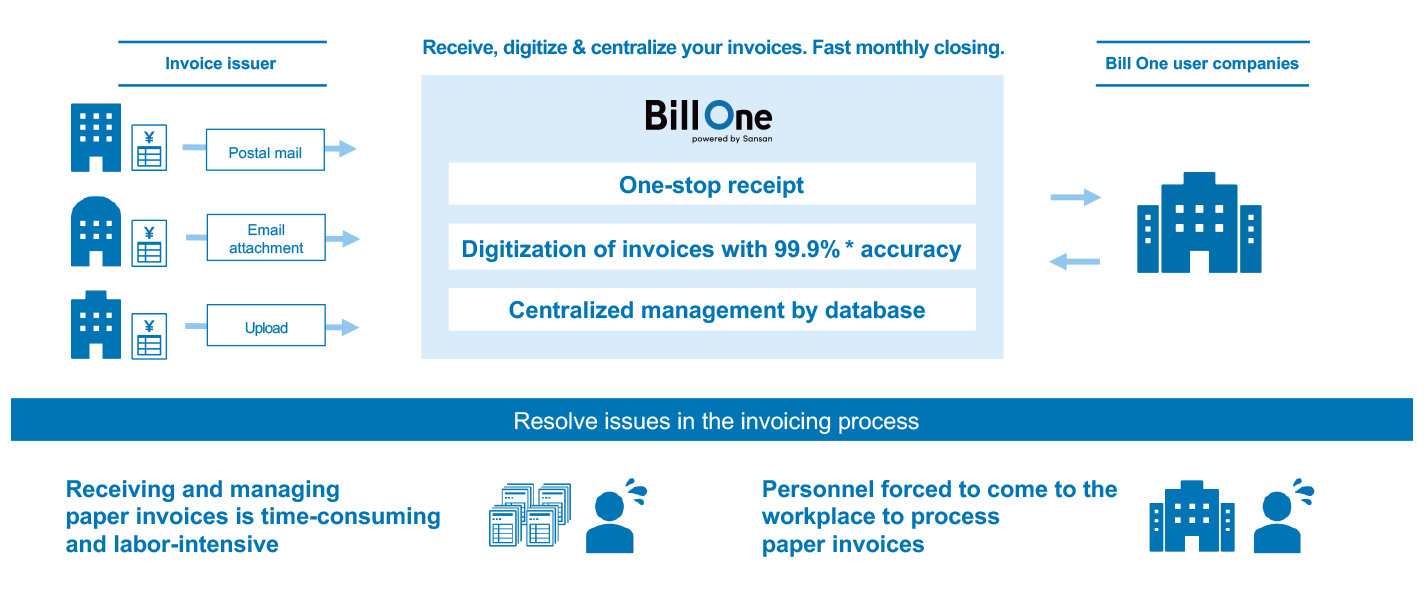 * Digitization accuracy when satisfying conditions set by Sansan, Inc.
The Bill One usage fee consists of an initial cost, including installation support from a dedicated consultant, and a monthly cost based on the number of digitized invoices.
We also offer a plan for companies with 100 or less employees, aimed at encouraging the introduction of remote work and reforming work styles. This plan has no initial cost or monthly fee after certain conditions have been set.
Eight provides one-touch business card exchange and smart contact management for businesspeople.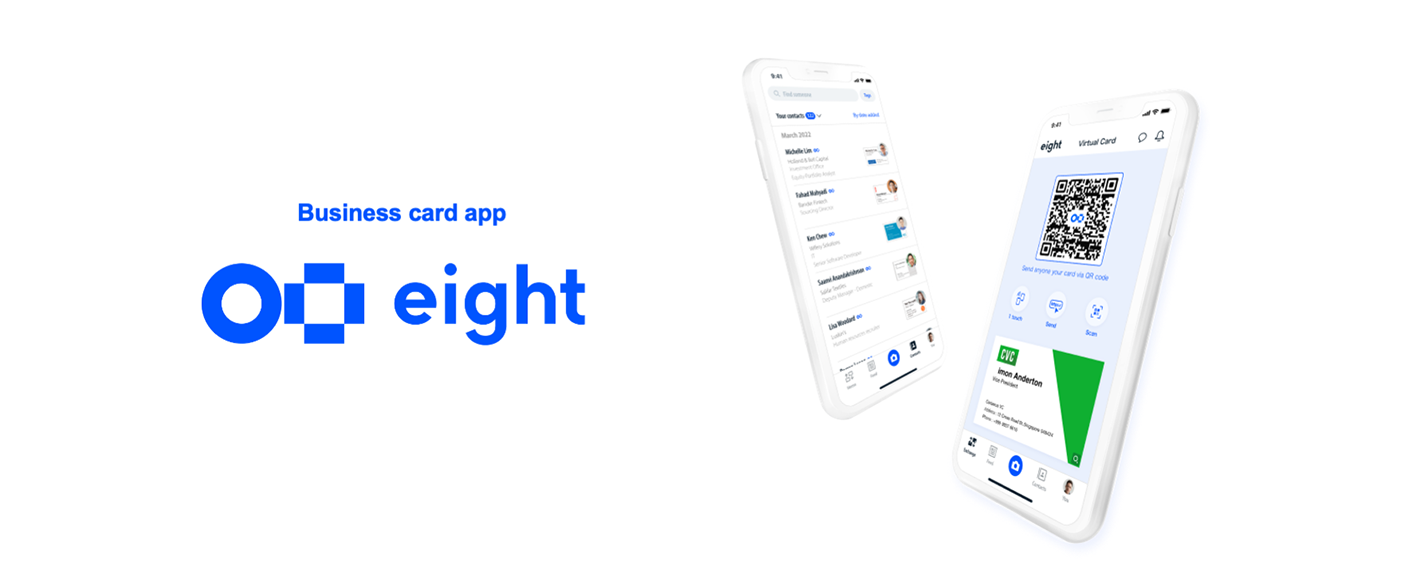 The Eight business card app is used by 3.3+ million professionals, who benefit from its quick and easy virtual card exchange functions and user-friendly management of their contact network.

Users simply register their own information and create an account. Then they can start enjoying one-touch business card exchange with other Eight users and management of their contact information. Eight Virtual Cards can be sent to non-users of Eight, and paper business cards exchanged can be photographed and digitized. Users can then manage and access the contact information within the app.

When a fellow Eight user changes their business card because of a promotion, transfer, job change, or other career move, the information is automatically updated and a notification is sent. In this way, users can keep track of their contacts' career status. They can also exchange messages with them through the app.
Eight has B2C (paid, for individuals) and B2B (paid, for companies) plans.

* B2B services in the Eight business include event transcription services for the media logmi Biz, logmi Finance and logmi Tech provided by logmi, Inc.
** There are multiple fee settings depending on the type of event held, etc.
*** There is an additional charge when a decision to hire is made.