"Sansan," a B2B cloud-based business card management service
The Company develops "Sansan," the B2B cloud-based business card management service, based on the concept of "Uncover your hidden network. Find opportunities. Make deals."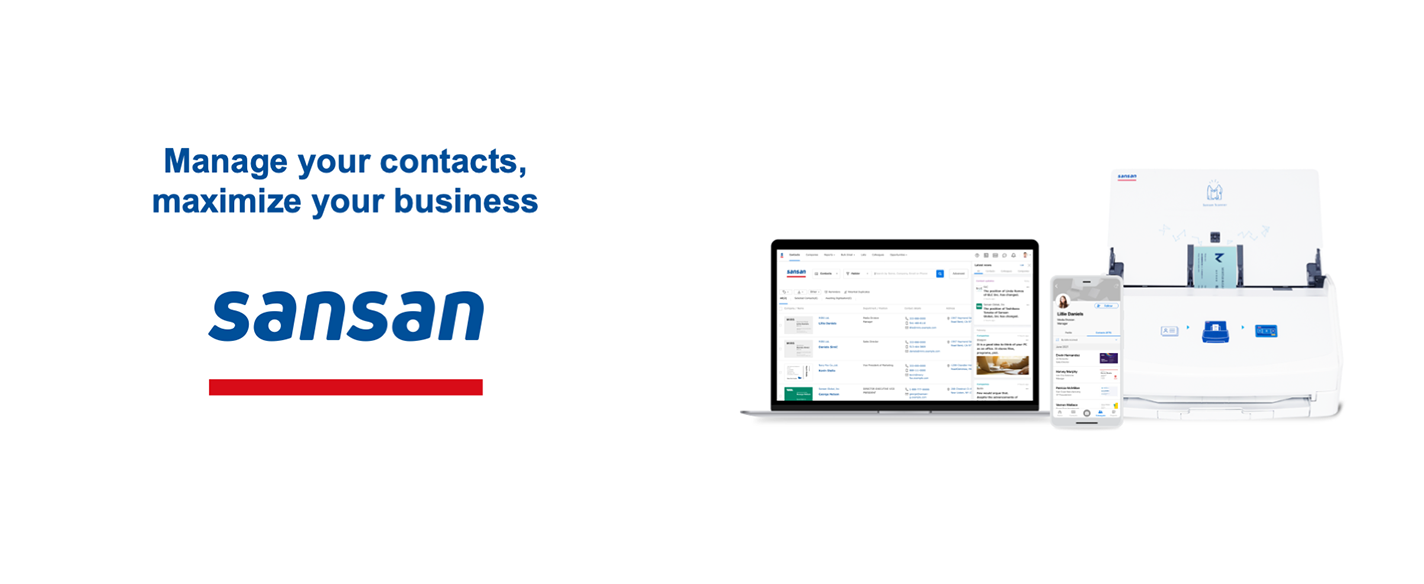 * "Latest trends in business card management services and sales services [SFA/CRM/online business card exchange]," December 2020, Seed Planning, Inc.
Major function
By using "Sansan" to solve various issues faced by companies and change the business cards with dormant potential in the company into an asset that can be used through business activities, we believe we are able to maximize the value of business "encounters."
Simply by having the user companies scan their business cards, it becomes possible to accurately digitize the business card information using data input operators, etc. of the Group and of external information processing partners and use "Business Card Management" as a basic function through the cloud-based applications. With this function, not only can individual employees manage their business cards, it also becomes possible to share Contact Data throughout the organization. Furthermore, Sansan provides a broad range of customer management tools, such as the distribution of news on personnel changes to inform people of the latest personnel information and the ability to send batch emails. In promoting business platform development, we are providing the optional functions. For example, the users can check anti-social forces data and compliance information on "Sansan" ( "Risk Intelligence powered by Refinitiv/KYCC") and contract information on "Sansan" ("Contract Management for CloudSign") simply by scanning business cards.In addition, "Sansan" possesses functions to link with external tools—such as SFA, CRM and marketing automation—by the use of Open API, etc., and functions that enable the acquisition and utilization of information from external services. We are also seeking improvements in user convenience.
Business model
The Company provides basic company-wide use plan.
The monthly usage fee is calculated by the usage fees of the optional functions, scanner rental fees, etc. being added to the license cost, which is calculated based on the number of business cards that are digitized in the user company. In addition, at the time the service is being introduced, additional paid services are provided relating to the digitization of the existing large volumes of paper-format business cards retained by the user company, activities to support introduction, etc.
"Bill One," an online invoice receiving solution
Based on the concept of "Receive, digitize & centralize your invoices. Fast monthly closing.," we are developing the online invoice receiving solution, "Bill One" for corporations.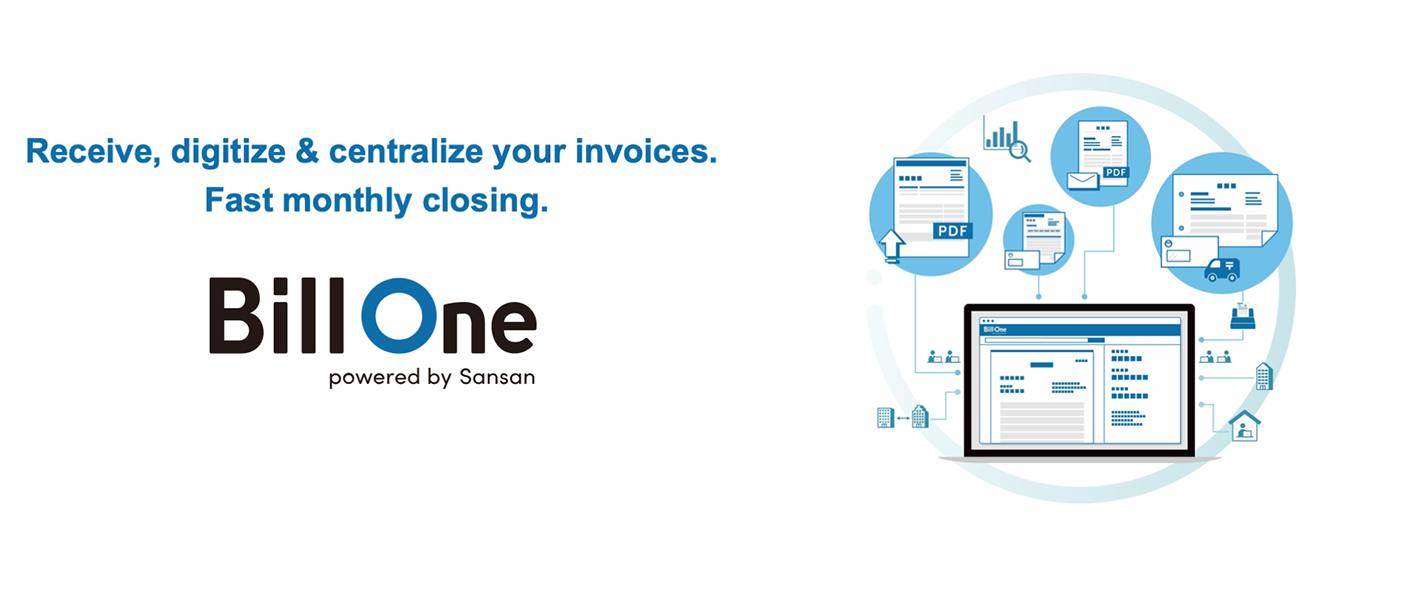 Basic functions
"Bill One" is a DX solution that helps companies make faster business decisions by allowing the online receipt of all invoices sent to multiple offices and departments of a company in both paper and PDF formats, boosting the efficiency of invoicing work across the organization. Paper invoices are received by the "Bill One" scanning center on behalf of the customer and quickly converted into data with 99.9% accuracy. "Bill One" also digitizes PDF files and other invoices received by email or other means. In addition to enabling digitized invoices to be viewed on a cloud platform, various workflows such as invoice confirmation and approval can be completed online, helping to expedite monthly accounting procedures. Moreover, invoice information is centrally managed in a highly searchable database, making it easy to search for data. This not only improves business productivity, but also enables the use of data to control costs, generate sales opportunities, and maximize future profit opportunities. The data can also be used in conjunction with other companies' services, such as accounting systems.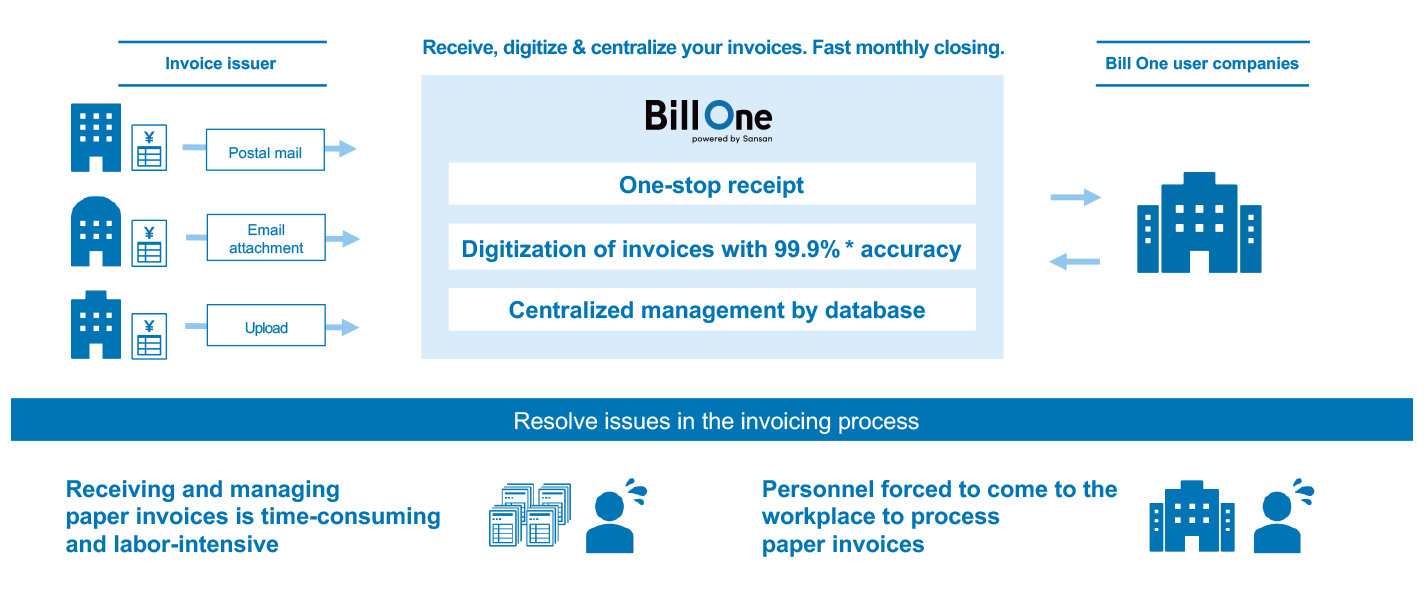 Business model
The usage fee for Bill One consists of an initial cost, including installation support from a dedicated consultant, and a monthly cost calculated on the basis of the number of invoices converted into data at the user company. With the aim of encouraging the introduction of remote work by small and medium-sized enterprises, for corporations with 100 or fewer employees we offer a small business plan with no initial cost and monthly fee after certain conditions have been set.
"Eight," a business card management app
The Company operates the business card application "Eight" as the new business network service that goes beyond pure business card management to incorporate a system of social networking services based on the concept of "Business Social Networking Based on Business Card Information."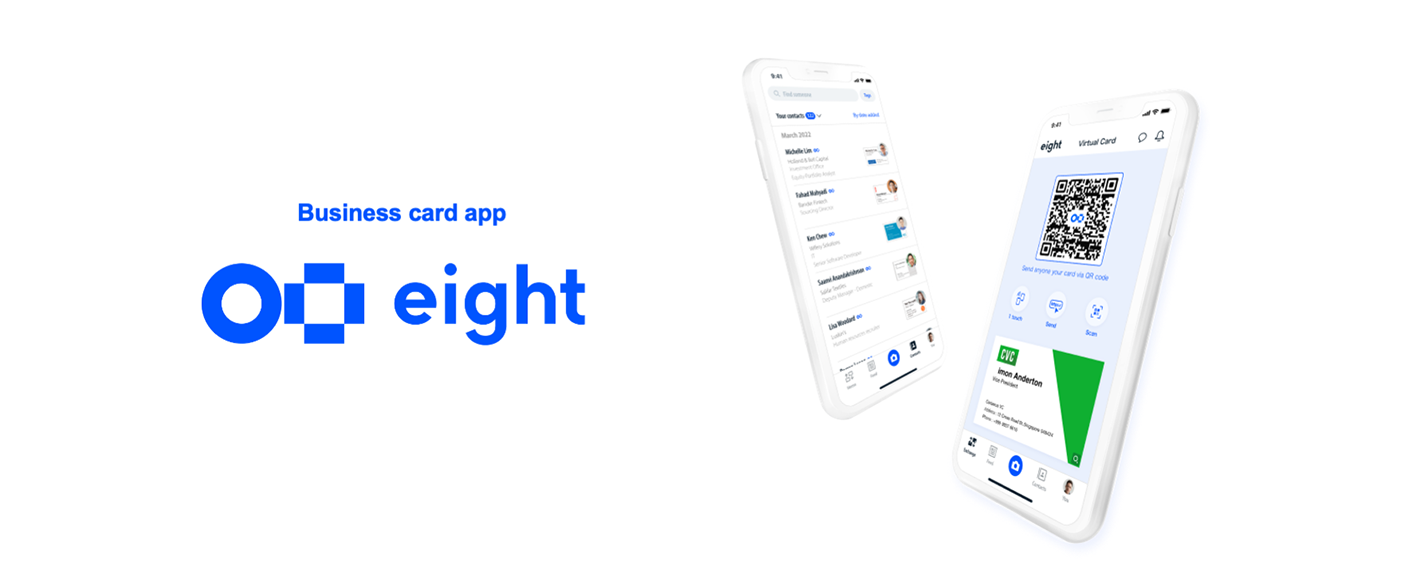 Major functions
As a life-time application with a business card management function, we are providing "Eight" as a platform which has the largest number of users on domestic business SNS*.
* "Average number of monthly active users, domestic business SNS apps, January–December 2020 (App Store + Google Play)," January 2021, App Annie research

"Eight," like "Sansan," is a service whereby the business card information of the user and their contacts are accurately digitized simply through scanning the business cards. First, by registering their own business card, the user creates their own page, which they can use throughout their business life, and on that page, they are able to manage their profile. Next, by registering the business cards of their contacts, the user is able to make use of the business card management functions, and all the Contact Data that has been converted to cloud-based data can be accessed at any time from either a smartphone or a PC. Furthermore, when the information of a contact who is connected through the networking service changes, the most recent information will be automatically updated in the registered Contact Data, and the user will be notified of this change. Users are also able to use a messaging function for business chats, and they are able to more smoothly utilize their own personal business networks. Users can also use the service for collecting corporate information that interests them, performing job searching activities, and participating in online events.
Business model
"Eight" provides BtoB service (paid plan for companies) and BtoC service (paid plan for individuals).

* B2B services in the Eight business include event transcription services for the media "logmi Biz," "logmi Finance" and "logmi Tech" provided by logmi, Inc
** There is a minimum advertisement placement price and also a normal advertisement menu.
*** There are multiple fee settings depending on the type of event held, etc.
**** There is an additional charge when a decision to hire is made.