Structure and Operation of Business Card Digitization
In our service, we digitize business cards by combining AI technology evolving through machine learning and manual input by humans. Currently, although automatic data conversion technology using optical character recognition (OCR) technology is commonplace, it is not possible to achieve 99.9% accuracy with any OCR system, and it is necessary to manually complement data conversion accuracy. The Group has established a workflow to digitize large volumes of business cards quickly and at low cost through the R&D department's research into AI technology to increase the accuracy of automatic data entry, and a system of several thousands of operators in Japan and overseas.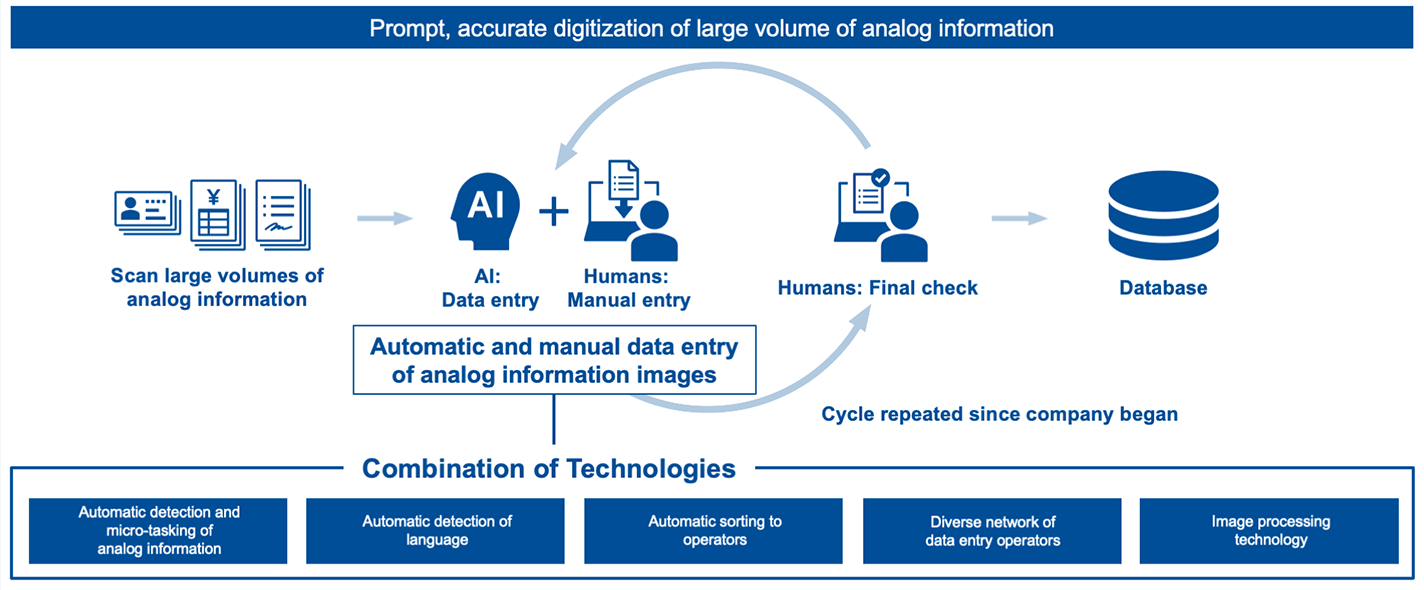 Service UI/UX Refined since Sansan's Foundation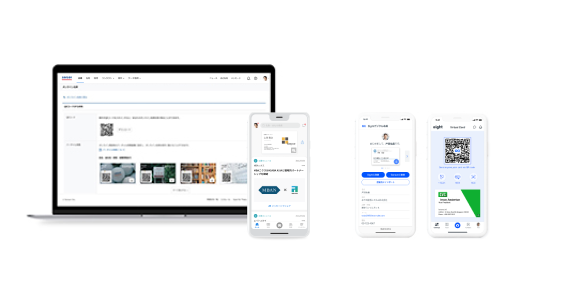 Since its founding in 2007, the Group created its own market for contact management services for corporations, and the Group remains a pioneer and leader in this market with a share* of 83.5%. Since we began the service, we have been working on a daily basis to improve convenience and expand functions based on various unique ideas and feedback from users. Currently, we are moving beyond the contact management function to develop "Sansan" as a business platform that can be used by every employee in a company, and realizing a user interface/user experience (UI/UX) that allows members to smoothly experience the various functions that effciently make use of business card and customer information.
* "Latest trends in business card management services and sales services [SFA/CRM/online business card exchange]," December 2020, Seed Planning, Inc.
Solid Customer Base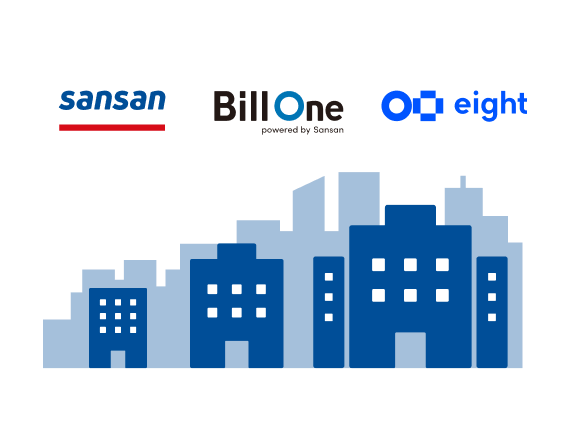 At the commencement of service, "Sansan" was mainly used by small and medium-sized enterprises, but as we focused on marketing activities, its use by large enterprises gradually expanded. We are building a solid customer base by advancing installations at financial institutions, where higher levels of security are being demanded by society, and other initiatives.
Business Card Digitization Workflow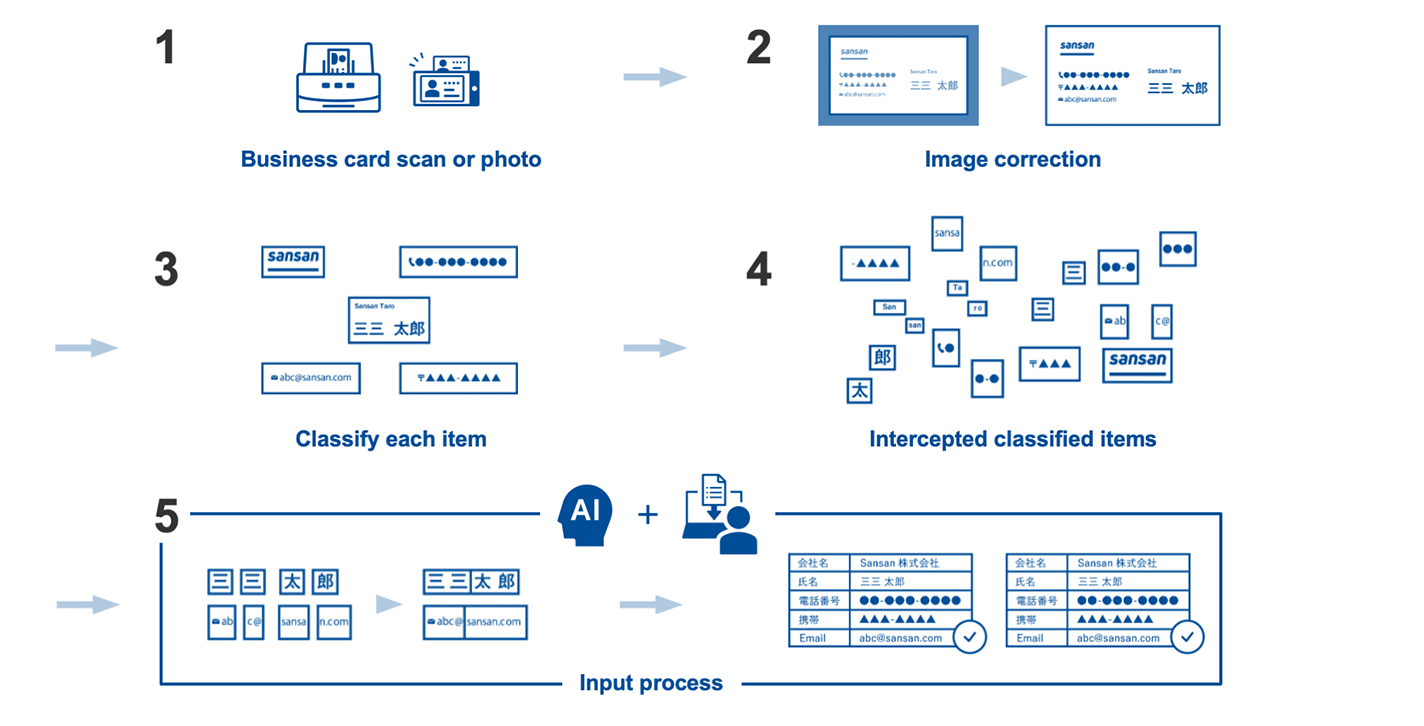 1 Scanning or taking a photo of business card
When the user scans or takes a photo of a business card with a dedicated scanner or smartphone application, the captured business card image is sent to us.
2 Image correction
The business card image is background-processed by image processing technology, and the characters are processed into an easy-to-read state by image correction processes, like increasing color contrast, that make the characters stand out.
3 Classifying each item
After dividing the clusters of characters on the business card by a fully automated machine process, we classify each item, such as by company name, first and last name, title, email address and company logo.
4 Intercepted classified items
Taking security into account, the images that include first and last names, telephone numbers, email addresses and similar information undergo an interception process until they can no longer be used as information.
5 Input process
・Automatic input by machine
Each intercepted item is automatically entered by machine processing. The items that cannot be input automatically by machine are input manually.
・Manual input
In the input process, two or more operators input the same image to prevent input mistakes, and the input process is performed until the results match to improve data conversion accuracy.In the case of manual input, several thousands of operators in Japan and overseas are involved in the work process, realizing a workflow that instantly digitizes large volumes of business cards.
・Completing input data using AI technology
Since there is a certain regularity to manual input errors, after aggregating the divided data into information on one business card, we analyze the data using deep learning AI to complement the accuracy of data conversion. In addition, we are conducting our own research into increasing the accuracy of digitization and using AI technology to determine character language, extract company logos, determine facial photographs to realize a structure that enables highly accurate digitization of cards with all designs and character formats.